Warehouses are always busy places - they're living beings in themselves in the way they operate with the constant movement of goods, people picking and packing to detailed schedules, stock taking and making sure records are accurate.
Anyone can spot the difference between an efficient warehouse and a chaotic one. A well managed one runs smoothly and things are done in a timely fashion, while inefficient ones are almost slovenly, probably a bit messy and there's visible room for improvement.
Enter lean thinking - this isn't a new concept, but it's made its mark in manufacturing. It simply means you work to create more value with less resources. It's now changing warehousing, as more warehouse managers are looking at ways to become more efficient.
Thinking lean allows you to remove waste from the system, leading to your team becoming more efficient and productive. It will also help to improve the performance of your team and your overall business.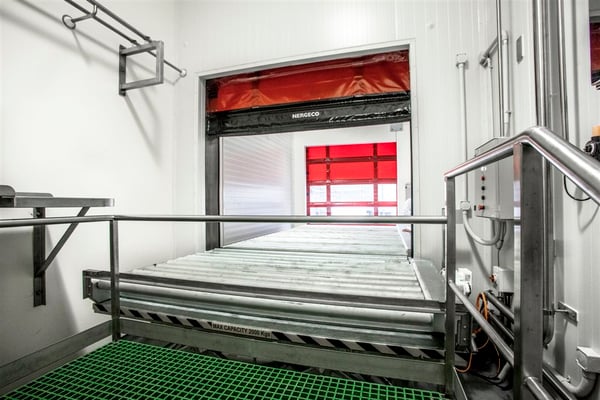 What is Lean Warehousing?
Being lean means you're less wasteful with your resources - making the most of the resources you have to create better processes in the warehouse. You can create a more effective warehouse, and company, just by focusing on productive practices and eliminating inefficient ones. Most warehouses will identify these inefficiencies by undertaking a warehouse audit. This can be done internally, but it can be useful to use the expertise of someone outside of your company. Using someone from outside of the company means you can get a fresh, unbiased set of eyes on your warehouse, which can highlight some inefficiencies you may not have even been aware of.
A lean warehouse is one where the most efficient tools, principles, and strategies are practiced and applied. It's a well-oiled machine in which all members of the team are consistently well-informed and engaged with the processes.
To get the best out of this system takes understanding and focus, with people needing to be more detailed than they've ever been. It's a challenge to be lean when first starting out. It needs to be a team effort - being competitive with oneself and within the team can be a benefit. It's about setting goals, milestones and achieving these together, even gamifying the effort.

What are the types of wastes found in warehouse management?
With all the different types of activity in a warehouse, there will always be multiple ways to fine-tune here and there and tweak processes to create efficiencies. However there are some general types of waste found in a warehouse, including:
Too much inventory taking up unnecessary space

Inefficiencies in the time it takes to move goods ie: too much waiting

Excessive over-checking - an indication of inefficient stock management processes

Unnecessary movement of goods which wastes time and money

Items being frequently out of stock, showing there's inefficiencies in ordering

Time taken to hunt for items that cannot be found.
All of these issues can be addressed using lean thinking processes.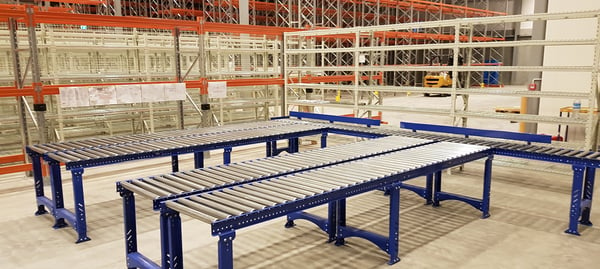 Why choose Lean Warehousing?
Whether you're a small local company only distributing regionally or a global company shipping goods around the world, lean warehousing can improve your business by bringing efficiencies and saving costs.
Some common challenges warehouse operators face are:
The need for increasing levels of accuracy and productivity

Becoming accustomed to the dynamics of ever-changing markets

Sustaining lower inventory levels meaning turnaround times need to be swifter

Maximising the performance of your team

Enhancing the warehouse's resources such as its storage area and the equipment used to manage goods

Maintaining the levels of customer service as needs change, while also being more efficient and saving costs.
Lean warehousing means a significant change in the way people think about warehouse management. Benefits can include:
Decrease handling times, or the loading and unloading of goods

Improved accuracy, consistency and distribution of information

Better picking and packing processes

Less time used to check or look for stock

More efficient stock replacement

Less chance of lost sales because of increased efficiencies.
Every warehouse will have different areas where it could be more efficient. The challenge is to find these and work out better processes that become part of day-to-day operations, and therefore deliver long term benefits.


Five principles of Lean Thinking
These five principles can be adopted by any warehouse and form the basis for lean thinking. Once appreciated and understood by your team, these principles will just become part of your warehouse operates - delivering efficiencies in time, space and less errors, and lower costs.
Value: Understanding the value customers place on your goods and services will determine the price, as well as the effort needed by the warehouse to maintain the supply of the product to the market.
The Value Flow: Assess the levels of stock or inventory in your warehouse, compared to the market demand. Ask if you always keep the warehouse stocked just in case anyone wants a particular product, or if you operate a leaner process with less stock that's accurate and meets demand.


Flow: Flow is about how items in the warehouse move, from the first step to the last, as efficiently as possible without any risk to quality or customer satisfaction. The key is to remove aspects of the process that don't add value, or take up space and time.


Pull: Only pulling stock into your warehouse, and therefore the supply chain, when a customer orders means less stock is held and your process is leaner. However, fulfilling orders does take longer if the stock is not on site. Whether or not "pull" is more effective for your warehouse will be based on whether your customer can bear (or expects) this timeframe. Effective pull inventory depends on very efficient warehouse processing.


Perfection: While it's unlikely to achieve perfection, it can be strived for. A lean warehouse operator sets the goals and standards high, and to reach these a company needs to spot reasons and look at ways to make them more efficient.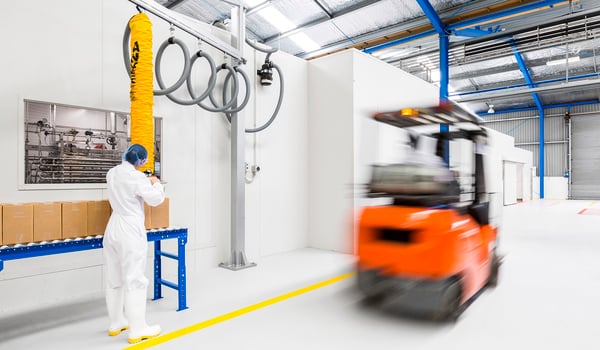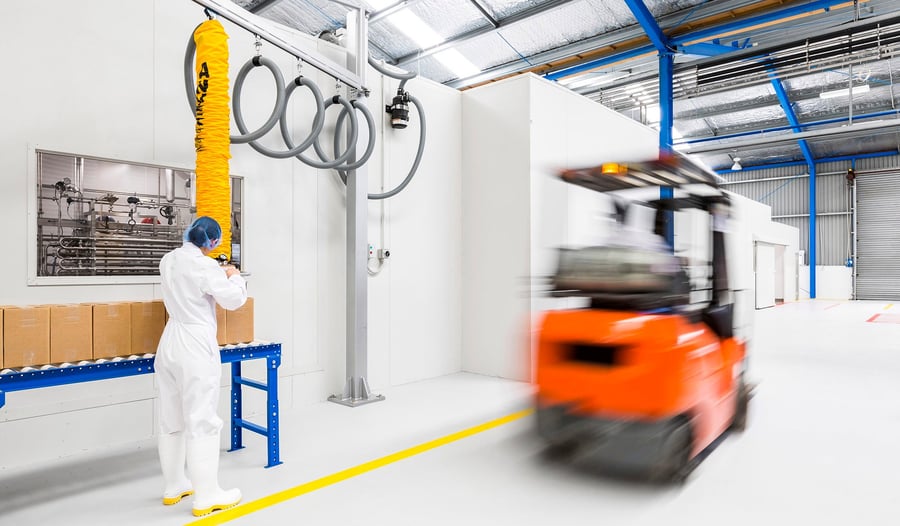 The Five S's (or 5S) of Lean Warehousing
The Five S's is a lean tool that develops warehouse productivity, by managing and regulating work processes and practices - it contains five strategies (5S) that helps you implement lean warehousing and maximise its effectiveness.
Sort: The procedure of sorting out and dividing required tools or goods, and eliminating the extra resources. You can sort and classify your warehouse by type of item, in chronological order, or by maximum-to-minimum consumed.


Set/Straighten/Streamline: Basic lean methodologies seek to organise items in a way that is simplest and most trouble-free to use. This includes all warehouse processes and its layout.


Shine: Warehouses can become messy, especially at busy times, when products are not in the right place, packaging material has not been properly disposed of, and jobs are unfinished. But a lean warehouse is clean (well, at least for most of the time), it is more productive and cost-effective because it uses time and space more effectively. A tidy warehouse also functions better. Daily cleaning, security and safety checks and inspection of equipment are important aspects of this, and contribute to maintaining a clean and functional work space.


Standardisation: the most effective lean practices require consistent processes that are understood, followed and supported to deliver efficiency whatever the volume of work.


Sustain: This is the maintenance of a warehouse through nonstop and constant improvement. You need to stay on top of frequent checks and see if rules or duties need to be changed/improved. Every step in this 5S process should be recurring.


Lean Transformation
You will now be well versed on what it takes to jumpstart yourself into lean warehousing. Converting an operation that follows these principles doesn't happen overnight, and the transformation requires a significant change in the managerial and administrative culture.
The main goal of lean practices is to use less effort and time to react to customer demand, to have lower inventories that require less space while maintaining the highest quality of service that fits with the financial goals of your business. This in turn means your warehouse can handle more.
The best way to start your lean warehouse transformation is to test new processes and experiment in order to give you good data on how productive your warehouse practices really are, and then to focus on the ones that deliver the best results.
It will be an ongoing process of constant fine-tuning, however; evolving your warehouse into one that's lean will build an atmosphere where inefficiencies are instantly noticeable, and each worker is determined to resolve them. Ultimately it involves building a culture of lean thinking within the warehouse team and making sure everyone is on board.
Enjoy the journey.